The 10K Bottles Travel Recommendations are wine guides and services we have personally used and recommend.  These recommendations are based on the excellence in the service they provide, the quality of the itineraries they put together, and the outright awesomeness of the guides. Companies under our Travel Recommendations have our personal seal of approval and are the folks we use whenever we're touring that region. This is our little way of (not too subtly) saying, if you head to this region – this is who you should use.  Cheers!
Italy Discovery Tours
Piedmont Wine Region
In early October of 2018, I was in Milan for work (yes, I lead a rough life) and found I had an extra day before heading home.  So, I did what every wine lover would do with an extra day in Italy, I arranged to visit one of their famed wine regions.  Working with Lorenzo from Italy Discover Tours, he put a fabulous and personalized itinerary together for me that was exactly what I was looking for.  I could not have asked for a better introduction to the Piedmont wine region and cannot wait to go back!  Be sure to scroll down to the bottom of this post for an exclusive 10K Bottles discount code.
Why should you use them?
Quality and Style
Everything about their service was high quality.  From my interactions during the booking and planning, to the car that arrived the day of the tour.  Italy Discovery Tours went above and beyond to ensure I had a great experience.
They Pick You Up in Milan
This may seem like a somewhat silly reason to list, but it is so true!  Although a whole bunch of folks provide tours of the Piedmont region, no one wants to pick you up and drop you back off in Milan!  A handful of companies wanted me to arrange a separate driver from Milan to the Piedmont region, then they would pick me up and give me the
tour from there…. talk about a logistical (and expensive) nightmare!  Therefore, Italy Discovery Tours gets a gold star just for offering this service.
Personalization
They offer a ton different tours and options on their site.  Don't see the exact thing that you want – ask them and more likely than not, they can accommodate you.  That's exactly what happened with me.  I gave them a very specific list of items (and anyone who knows me, knows that my lists can be daunting) that I was looking for with my day, and when the day came, they delivered on every one.
Wanna visit?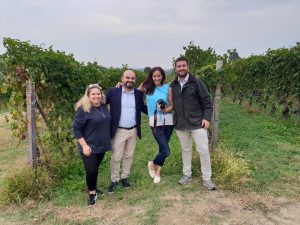 If you find yourself in Milan and itching to get out into the Piedmont wine region (or a number of others around Milan) put Italy Discovery Tours on the top of your must contact list.  You can contact them directly via their their website.  Have a special request?  Head over to their contact page and let them know what you have in mind.
Bonus: Since you discovered them here, below are two fantastic discount codes you can use when booking your order.
VISITITALY10KB: 10% off, 1 use per user, no amount limits, no expiration
50FOR10KB: 50 EUR off, 1 use per user, minimum order 400 EUR, expires March 31st , 2019.