Sometimes in your life you taste, and perhaps more importantly experience, a wine that you just know is something special. Standing in the vineyard at the bottom of Howell Mountain in Napa Valley, staring at the tiny half-acre plot of vines, I asked the wine growers / makers Lynn and Kirk Grace where the rest of their vineyard was. They laughed, and told me that I was looking at the entire vineyard. This was a vineyard so small that I could literally throw a ball from one end to the other, and I don't exactly have a good arm. To put a half-acre in perspective, the cult wine Harlan Estate has 40 acres of vines – 80 times as large as Wise Acre Vineyard.
Wise Acre's vineyard is so small I can throw a ball from one end to the other, and I can't throw...
Click To Tweet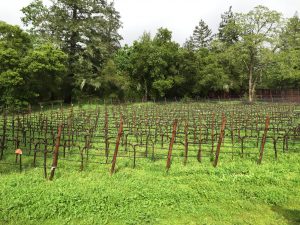 Of course, just having a miniscule production does not alone make a great wine. Drinking the wine, however, confirmed everything that I hoped for when looking at their 100% Cabernet Sauvignon vineyard. The wine was balanced, complex, and elegant – everything one expects of a California Cult status wine. But its miniscule production, and Lynn and Kirk's almost over-obsession with bio-correct farming and their little plot of grapes made me wonder – is this a cult wine for a new generation of wine drinkers?
So, here are five reason why I believe Wise Acre is primed to be the next California Cult Wine, or more accurately, the first Millennial Cult Wine.
1. Miniscule production and exceptional quality
The word "miniscule" is generally not a positive term. But for wine production, it is a magical word. As I mentioned in my blog post What is a Cult Wine?, cult wines are from small production vineyards, where the wine grower can pay close attention to every vine, and Wise Acre definitely meets that criteria. In fact, it's one of the smallest vineyards in Napa Valley. They have a total of a half-acre planted, and produce around 60 – 100 cases per year… and that's it. Due to their location, they can't expand, so their production will always be limited and supply will be scarce.
But, what they lack in size, they make up for in quality. Wise Acre produces one wine per year, and it is 100% Cabernet Sauvignon, sourced exclusively from their half-acre vineyard sitting at 680' above sea level at the base of Howell Mountain. Initially planted in 2005 with root stock and clippings sourced from the famed (and arguably cult-status) Grace Family Vineyards (little wine trivia, Kirk's parents are the founders of Grace Family Vineyards), they produced their first vintage in 2008.
2. Superior Farming Practices
Many wineries tout organic practices, but Wise Acre takes it to a whole new level. With the belief that everything is connected, and holding true to their philosophy to "manage the soil, not manipulate it," Lynn and Kirk work to mimic the natural processes of a stable environment through bio-correct farming practices. Bio-correct farming (a term coined by Kirk), combines Kirk's 30+ year knowledge of organic, biodynamic, and progressively sustainable agricultural practices.
3. Exceptional + Happy Grapes
Because of their small production and strong commitment to organic and bio-correct farming, Lynn and Kirk are able to maintain an unparalleled commitment to quality and love for their vineyard, tending to each and every vine by hand. This is a time consuming practice and labor of love practice that does not scale. They believe that all things are connected and affects the quality of the grapes, even one's mood while tending to the vineyard. Lynn (half) jokes that when she's in a bad mood she won't work with the vines because it ultimately affects their quality. When you're there, in the vineyard, you can feel a difference, you can feel the positive energy. Wise Acre doesn't just strive to grow exceptional grapes, they strive to produce exceptional and happy grapes and it shows in the quality and elegance of their wine.
Wise Acre has an unparalleled commitment to quality and love for their vineyard
Click To Tweet
4. Unpretentious and Authentic
Unfortunately, due to small productions, cult wines normally do not offer tastings. And, unsurprisingly, Wise Acre is no exception. After all, large tasting rooms go through in a week what Wise Acre produces in total. But, lucky for me, I recently had the pleasure of tasting Wise Acre's wine at the vineyard. The tasting wasn't at some big, fancy, and over the top tasting room. It was in their home, at their kitchen table as their dog and children played upstairs. It was intimate, unpretentious, and fantastic. Which represents who Lynn and Kirk Grace are. They know to focus their energy on exactly what's important – growing exceptional (and happy) fruit and turning it into amazing wine. No granite filled tasting room with fountains and pillars required.
5. Enter the millennial generation where making an excellent wine isn't enough
Wise Acre's unique attitude and approach towards farming and winemaking fits perfectly with the passions of the millennial generation – the new purchasing powerhouse for the wine industry. As a generation, Millennials tend to value authenticity and a commitment to environmental sustainability more than older generations. They put little value on how things have been done in the past and aren't satisfied with drinking the wine their parents' drank. At the risk of over-generalization, Millennials tend to value experiences over possessions and consider drinking wine to be a deserving experience – and one they're willing to spend money on. Millennials want to discover the undiscovered, and they want to put their money behind companies that do more than just make a product – they also make the world and their environment a better place. And Lynn and Kirk's Wise Acre is just that, a phenomenal wine from their little piece of (well positioned) land, where they nurture and love their soil, vines, and grapes.
Wise Acre's unique approach and attitude fits perfectly with the passions of millennials
Click To Tweet
Full disclosure, a few days after our tasting, I contacted Wise Acre and purchased two bottles of all available vintages going back to 2008 – most of which are now sold out. When Wise Acre does reach cult status, I'm going to have one hell of a vertical in my cellar!
If you can still get it, I strongly suggest you visit Wise Acre's website to get your hands on what's left. If it's gone, then get on their allocation list if there's still room (I know I wish I got on Screaming Eagle's allocation list a decade ago). Because their wines are so limited, unfortunately it is not a wine that you can just taste in a tasting room, but rather you must commit to at least a bottle. That said, I think it's a wine well worth the investment.
In the future, be sure to tag #10KBottles when you're flying across country to some small liquor store in Las Vegas to pick up the last few bottles of Wise Acre available.